AWS Weekly Roundup – AWS Storage Day, AWS Israel (Tel Aviv) Region, and More – Aug 8, 2023
(Editor's note: Today, we are changing the title of this regular weekly post from AWS Week in Review to AWS Weekly Roundup to better reflect the mix of recent top news and announcements as well as upcoming events you won't want to miss.)
It's taken me some time to finally be comfortable with being in front of a camera, a strange thing for a Developer Advocate to say I know! Last week I joined a couple of my team-mates at the AWS London Studios to record a series of videos that will be published in our Build On AWS YouTube Channel. Build On AWS is for the hands-on, technical AWS cloud builder who wants to become more agile and innovate faster. In the channel, you'll find dynamic, high-quality content that's designed for developers, by developers!
This video tells you more about what you'll find in the channel. Check it out and consider subscribing to not miss out when we publish new content.
Now on to the AWS updates. There was a lot of news related to AWS last week, and I've compiled a few announcements and upcoming events you need to know about. Let's get started!
Last Week's Launches
Here are a few launches from last week that you might have missed:
Microsoft 365 Apps for enterprise now available on Amazon WorkSpaces services – Amazon WorkSpaces is a fully managed, secure, and reliable virtual desktop in the AWS Cloud. With Amazon WorkSpaces, you improve IT agility and maximize user experience, while only paying for the infrastructure that you use. We announced the availability of Microsoft 365 Apps for enterprise on Amazon WorkSpaces. You can bring your own Microsoft 365 licenses (if they meet Microsoft's licensing requirements) and activate the applications at no additional cost to run Microsoft 365 Apps for enterprise on Amazon WorkSpaces services.
AWS Israel (Tel Aviv) Region is Now Open – You can now securely store data in Israel while serving users in the vicinity with even lower latency. This is because last week we launched the Tel Aviv Region to give customers an additional option for running applications and serving users from data centers located in Israel.
Amazon Connect Launches – This is one of my favorite AWS services to write about because of how Amazon Connect is changing our customers' engagement with their own customers. Last week, Amazon Connect announced automatic activity scheduling based on shift duration, custom flow block titles, and archiving and deleting flows from the UI, to name a few.
Other AWS News
A few more news items and blog posts you might have missed:
Customizable thresholds for health events supported on Amazon CloudWatch Internet Monitor – Until this announcement, the default threshold for overall availability and performance scores to invoke a health event was 95 percent. Now, you can customize the thresholds for when to invoke a health event for internet-facing traffic between your end users and your applications hosted on AWS.
Improved AWS Backup performance for Amazon S3 buckets – Now you can speed up your initial Amazon S3 backup workflow and back up buckets with more than 3 billion objects due to improvements to the speed of backups by up to 10x for buckets with more than 300 million objects. This performance improvement is automatically enabled at no additional cost in all Regions where AWS Backup support for Amazon S3 is available.
For AWS open-source news and updates, check out the latest newsletter curated by my colleague Ricardo Sueiras to bring you the most recent updates on open-source projects, posts, events, and more.
For a full list of AWS announcements, be sure to keep an eye on the What's New at AWS page.
Upcoming AWS Events
We have the following upcoming events:
AWS Storage Day (August 9) – A one-day virtual event where you'll learn how to prepare for AI/ML with the storage decisions you make now, how to do more with your budget by optimizing storage costs for on-premises and cloud data, and how to deliver holistic data protection for your organization, including recovery planning to help protect against ransomware. Learn more and register here.
AWS Summit Mexico City (August 30) – Sign up for the Summit to connect and collaborate with other like-minded folks while learning about AWS.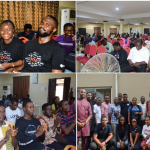 AWS Community Days (August 12, 19) – Join these community-led conferences where event logistics and content are planned, sourced, and delivered by community leaders: Colombia (August 12), and West Africa (August 19).
---
P.S. We're focused on improving our content to provide a better customer experience, and we need your feedback to do so. Take this quick survey to share insights on your experience with the AWS Blog. Note that this survey is hosted by an external company, so the link doesn't lead to our website. AWS handles your information as described in the AWS Privacy Notice.
– Veliswa
Source: AWS News