EC2 High Memory Update – New 18 TB and 24 TB Instances
Last year we launched EC2 High Memory Instances with 6, 9, and 12 TiB of memory. Our customers use these instances to run large-scale SAP HANA installations, while also taking advantage of AWS services such as Amazon Elastic Block Store (EBS), Amazon Simple Storage Service (S3), AWS Identity and Access Management (IAM), Amazon CloudWatch, and AWS Config. Customers appreciate that these instances use the same AMIs and management tools as their other EC2 instances, and use them to build production systems that provide enterprise-grade data protection and business continuity.
These are bare metal instances that can be run in a Virtual Private Cloud (VPC), and are EBS-Optimized by default.
Today we are launching instances with 18 TiB and 24 TiB of memory. These are 8-socket instances powered by 2nd generation Intel® Xeon® Scalable (Cascade Lake) processors running at 2.7 GHz, and are available today in the US East (N. Virginia) Region, with more to come. Just like the existing 6, 9, and 12 TiB bare metal instances, the 18 and 24 TiB instances are available in Dedicated Host form with a Three Year Reservation. You also have the option to upgrade a reservation for a smaller size to one of the new sizes.
Here are the specs:
| | | | | | |
| --- | --- | --- | --- | --- | --- |
| Instance Name | Memory | Logical Processors | Dedicated EBS Bandwidth | Network Bandwidth | SAP Workload Certifications |
| u-6tb1.metal | 6 TiB | 448 | 14 Gbps | 25 Gbps | OLAP, OLTP |
| u-9tb1.metal | 9 TiB | 448 | 14 Gbps | 25 Gbps | OLAP, OLTP |
| u-12tb1.metal | 12 TiB | 448 | 14 Gbps | 25 Gbps | OLAP, OLTP |
| u-18tb1.metal | 18 TiB | 448 | 28 Gbps | 100 Gbps | OLAP, OLTP |
| u-24tb1.metal | 24 TiB | 448 | 28 Gbps | 100 Gbps | OLTP |
SAP OLAP workloads include SAP BW/4HANA, BW on HANA (BWoH), and Datamart. SAP OLTP workloads include S/4HANA and Suite on HANA (SoH). Consult the SAP Hardware Directory for more information on the workload certifications.
With 28 Gbps of dedicated EBS bandwidth, the u-18tb1.metal and u-24tb1.metal instances can load data into memory at very high speed. For example, my colleagues loaded 9 TB of data in just 45 minutes, an effective rate of 3.4 gigabytes per second (GBps):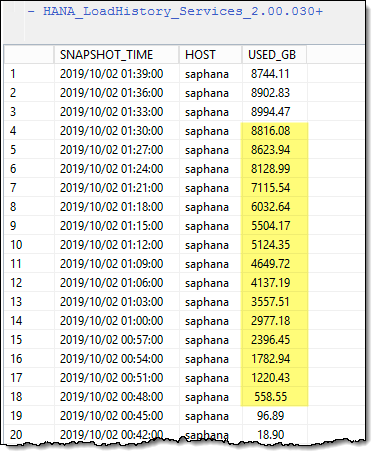 Here's an overview of the scale-up and scale-out options that are possible when using these new instances to run SAP HANA: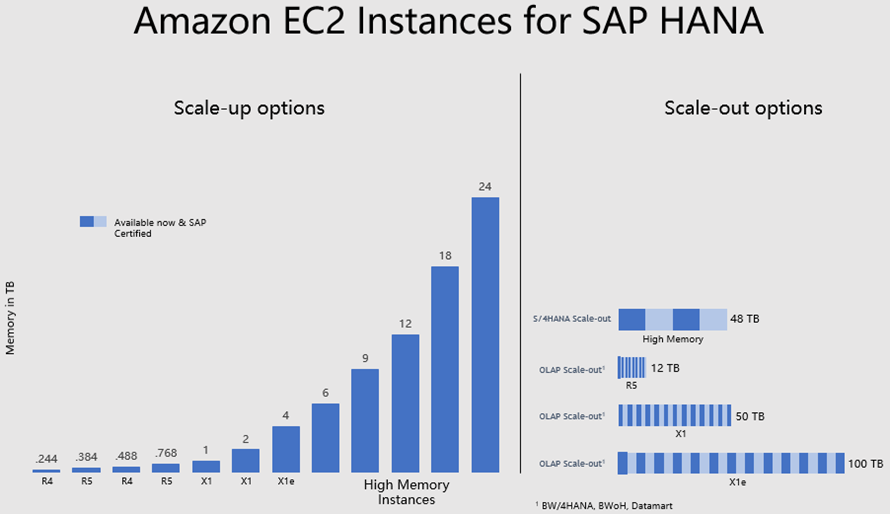 New Instances in Action
My colleagues were kind enough to supply me with some screen shots from 18 TiB and 24 TiB High Memory instances. Here's the output from the lscpu and free commands on an 18 TiB instance: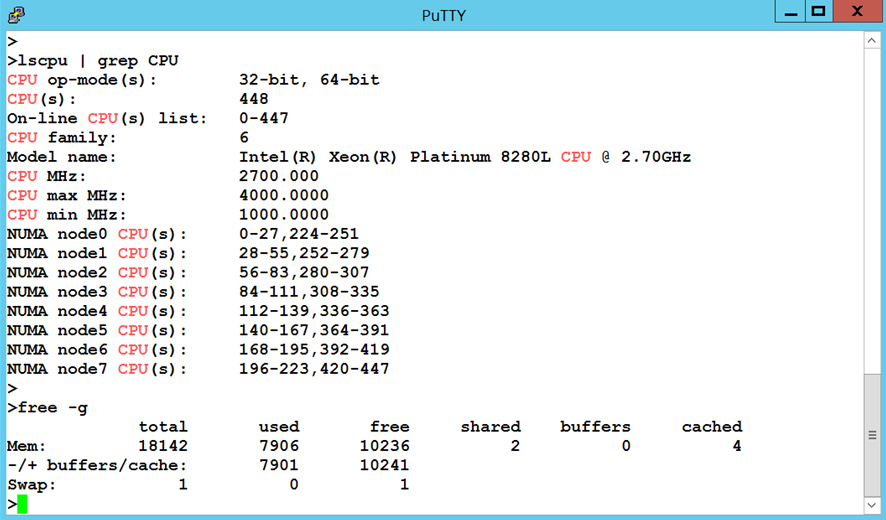 Here's top on the same instance: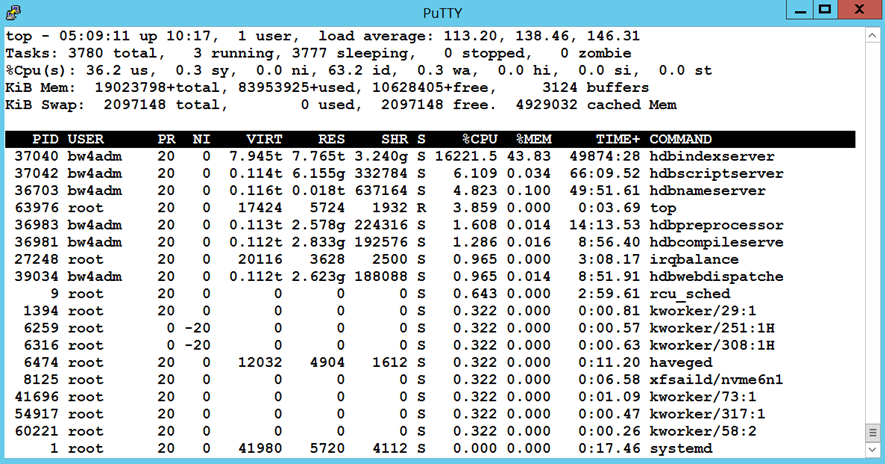 And here is HANA Studio on a 24 TiB instance: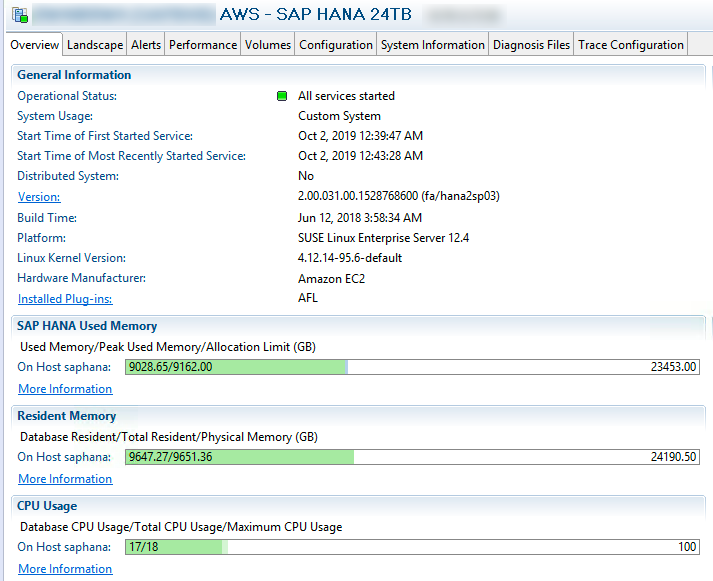 Available Now
As I mentioned earlier, the new instance sizes are available today.
— Jeff;
PS – Be sure to check out the AWS Quick Start for SAP HANA and the AWS Quick Start for S/4HANA.

Source: AWS News